Sep 12, Vashon Island Pet Protectors in Seattle posted something that was really worried. Tillie and Phoebe, two lovely dog , disappear suddenly for 5 days . the rescuer team do all his best but ends with no luck 🙁
suddenly after the post posted , a family reported that two dogs appearing in their backyard.
look at the photo This is what they found. 🙁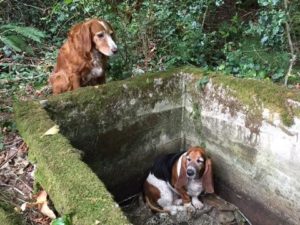 The two dogs were sick and hungry, but the happy end make them happy for sure. They're now back with their owner.
(via BuzzFeed)
If your dog ever goes missing and no one can find them anywhere, they may be stuck somewhere, like these two were. It's important to adjust your search accordingly.
It's easy to forget just how much our pets care for one another (and for us), but this story serves as a great reminder of their loyalty and friendship!