1. You know he or she is easygoing
Dogs are messy, destructive, impulsive, furry, adorable monsters, and it takes a specific degree of adaptability to have the option to endure one. At the point when you date somebody who has a German Shepherd, you realize that the person in question can accept circumstances for what they are and not go freak when something sudden occurs, or when the person in question can't be in supreme control.
2. German Shepherd is active
Your potential S.O. probably won't be a devotee of 15-mile climbs. However, s/he will most likely be somebody who preferences playing, walking, and being outside.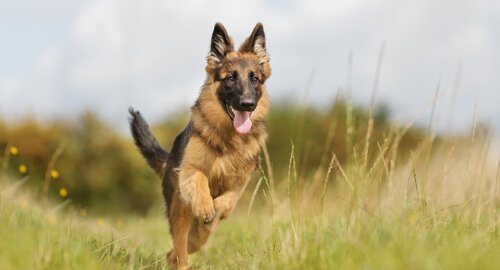 3. They are cuddlers
Dogs love to cuddle and to be cuddled, and a great many people who have dogs will be into that sort of physical love. So in case you're somebody who delights in great hugs, find thee a German Shepherd owner.
4. Patience is everything
Having a German Shepherd–a raising a little dog especially – is an activity intolerance. In case you're out on the town with somebody who figured out how to endure a little dog's home preparing and getting teeth, you realize that person has a strong well of persistence close by.
5. A German Shepherd-owner is not afraid of commitment
Dogs live for quite a while – some of the time as much as 15 years. In the event that somebody has a German Shepherd, you realize that that person isn't hesitant to focus on a long term relationship (regardless of whether that LTR is with a dog).
6. People with dogs are fun!
There is much of persistence and duty involved in German Shepherd possession, but at the same time, there's a ton of fun. Dogs love to play and be senseless, and you can wager that if your date is a German Shepherd-sweetheart, the person in question likes to play and be silly, as well.
7. German Shepherd owners are social
Pooches are social animals, and their proprietors will in general be social, as well. For instance, psychologist Sam Gosling and graduate understudy Carson Sandy at the University of Texas studied more than 4,500 individuals so as to look at the characters of self-portrayed "dog people" and "cat people." The survey showed that " dog owners were commonly around 15 percent increasingly outgoing and 13 percent progressively pleasant" than feline individuals.
8. They are generally happier and healthier
A recent report by psychologists from Miami University and Saint Louis University researched how pet proprietorship influences individuals' lives; According to Psychology Today, one piece of the investigation indicated that "pet owners exhibited greater self-esteem, were more physically fit, were less lonely, were more conscientious, were more socially outgoing, and had healthier relationship styles (i.e., they were less fearful and less preoccupied) than non-owners." So pretty much pet owners are AWESOME.
9. German Shepherd-owners are hot
Everybody looks more attractive with a German Shepherd. This is basically an obvious truth.