Looking at a German shepherd puppy, you wouldn't think that such a small and adorable dog could become so big once they're fully grown. In a cute video called "Watch My Puppy Grow," Julez Fowler chronicles the early years of her beautiful German shepherd, Eikō, as he grows.
Eikō is such a cute puppy
As the video starts, viewers are treated to some photos and video of Eikō as a puppy. The adorable black and tan furball runs around playing at only seven weeks old.
At this stage in his life, he is super cute — even though he never really loses his cuteness as he gets older.
Video watchers are also treated to scenes of the tiny dog sleeping in his water bowl and getting his first bath. Eikō is also shown kissing another older German shepherd.
Next, it's more pictures of Eikō sleeping and playing with shoes, which just reinforces how adorable he is.
Eikō is old enough for training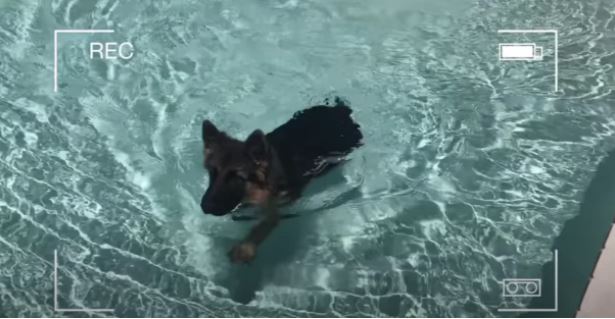 Soon, Eikō is shown playing with another puppy, which drives the cuteness scale off of the charts. The other puppy is just as cute as the two roll around on the floor, nipping and biting playfully at each other.
Soon, though, Eikō is old enough to start learning commands, so at 10 weeks old he begins training.
Eikō continues to get bigger
As the video continues, Eikō continues to grow as he gets older. He also shows how smart he is by picking up his training pretty quickly and following his owner's commands at only 11 weeks old. Next, he is shown playing out in the snow, running and playing like a big dog, and swimming in the pool.
Before you know it, Eikō has become a pro at swimming in the water and is shown playing in the water at the beach and chasing a ball in the pool. As the video draws to a close, Eikō is two years old, and the once adorable pup has grown into a big, beautiful dog. Regardless of his size, his owner loves him just as much as when he was a tiny puppy.
Eikō's progression in the video from a puppy to a full-grown German shepherd shows just how fast a dog can grow and why it is important to enjoy their adorable youth while you can.
You can find more of Eikō online
The video of Eikō, which was posted on YouTube, ended up getting over 8 million views and 97,000 likes, showing that people love videos of cute puppies, especially those as adorable as Eikō. If you want to find even more photos and videos of Eikō, visit his Instagram page or YouTube channel.
If you want to see more of Eikō and his journey from 7 weeks to 2 years old, check out the video below.
Please SHARE this with your friends and family.