A few years ago, a Belgian fireman rescued a kitten and decided to adopt it. The man brought the little cat home, hoping that the whole family would welcome it, including the dogs. And so it happened. In fact, the dogs not only accepted him, but also raised him as their own.
Now Azmael the cat is one more of the pack. They still play together, are careful not to hurt each other and go for walks with the dogs.
The fireman's wife, Nathalie, published a photo of the pets in the subreddit "Aww". There you can see the 3 animals sitting on the road, enjoying themselves.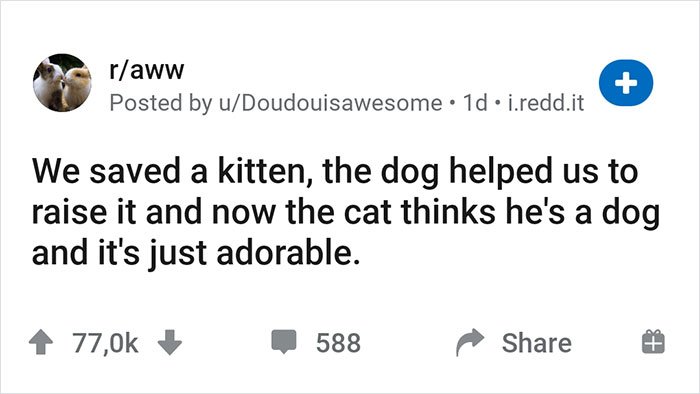 Photos credit: Doudouisawesome
"In the picture, Nimue (Altdeutscher Schäferhund), Azmael (the cat) and Liam (white Swiss shepherd)," says Nathalie.
Her husband found the kitten in a little pool of blood in the middle of the road. "He was still alive, but badly injured. He tried to find his family, but nobody knew where he had come from, so we took him to the vet and he stayed there for a few days". And against all odds, the kitten survived and was taken home.
"The first day we saw that he only had eyes for our shepherd dog. And he didn't know what to do with the kitten, until he decided that he was his friend and that he would take care of him (and the cat tried to drink the dog's milk). They have a special relationship. Azmael decided that the dog was the best pillow, and then he also made friends with the other dog, Nimue".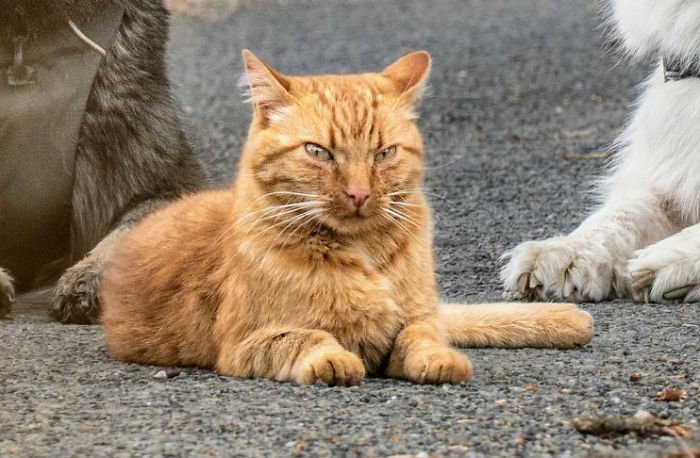 Photos credit: Doudouisawesome
"3 pets are a lot of work. When we brought the kitten I was worried about raising him because we were too busy with the others, but Nimue was very helpful. He washed the kitten and played with him every day. I guess it would have been very different if they didn't get along."
Photos credit: Doudouisawesome
"Almost every morning, Azmael comes with us for a walk, it's like having 3 dogs. But you have to be careful because he doesn't pay attention to cars and we have to hold him if one comes. He is not afraid of other dogs and even chases them if they try to bother our dogs".
Photos credit: Doudouisawesome
"We are careful not to go too far from home if Azmael comes. If we want to take a longer walk, we make sure he stays home. We have to feed him just before we leave or he will try to follow us".
Photos credit: Doudouisawesome