Spending time with your dogs does wonders for your welfare. Your little buddies can be your devoted companionship and provide constant entertainment. When it comes to dog breeds, Bernedoodle puppies can be a perfect option.
Bernedoodle puppies are known for their loyal, gentle, clever, and goofy traits. Dog experts claimed that this mixed breed has the perfect combination of Poodle and Bernese Mountain Dog parents.
Known as the Bernese Mountain Poo, this breed is not bred to take home ribbons in any dog shows. Instead, Bernedoodle puppies are meant to be the loving, perfect companions for devoted and active dog owners.
Get to Know More about Bernedoodle Puppies
The Bernedoodle puppies are companion dogs, and their breed inherits the cleverness of their Poodle parents. This breed also inherits its happy-go-lucky, goofy, and charming temperament from its Bernese Mountain Dog parents. Experts claimed that this breed is happiest when they are spending enough time with their loved ones.
The Bernedoodle puppies, however, can differ in appearance. Some of them have curly, wavy, and straight fur. They also come in three distinct sizes: standard, tiny, and miniature. These sizes are recognized by the size of their parent, which can be standard, tiny, and miniature.
Since Bernedoodle puppies are a mixed breed, they tend to have fewer health problems than Bernese Mountain Dogs and Poodles. They may also be stubborn but often fades with age, and their cleverness makes them very trainable.
In addition, this breed sheds very little and hypoallergenic. Even if they are commonly good with other dogs and kids, early socialization is significant to ensure that they remain comfortable and calm in new situations or environments.
The place to Adopt Bernedoodle Puppies
Suppose you need a Bernedoodle Puppy or a single owner searching for a smart-mixed and lovable breed with an excellent health condition that will make your life even more exciting. In that case, this is your chance to know where to adopt Bernedoodle puppies.
For your guide, here are the top places for you to find the best puppy you opt to have:
IDOG Rescue and Rehome
IDOG started operating in 2006. This is a non-profit rescue program that works with the different doodle breeds. They use foster homes situated in distinct places in the United States.
If you are residing in the U.S., you can visit its headquarters in Houston and Texas. They can also be reached online with other regions to help dog lovers searching for doodle dogs to adopt.
If you opt to apply for adoption in this company, you need to reapply every time you apply for each dog. It means that you can't just fill out an adaptation form and wait for your puppy.
Doodle Rescue Collective
This company has been operating since 2005. It is known as the original doodle rescue collective company in the U.S. They have rescued more than four thousand doodle breeds. They don't just rescue Bernedoodle puppies, but other breeds too, like Labradoodles, Goldendoodles, and more.
In case you are interested in applying for adoption, the company will keep your record file. Through this, you don't need to reapply in case you opt to adopt a new one.
This company is one-of-a-kind as they continue to rehome and rehabilitate the different dog breeds and monitor their medical needs. They also foster homes in Canada and United States.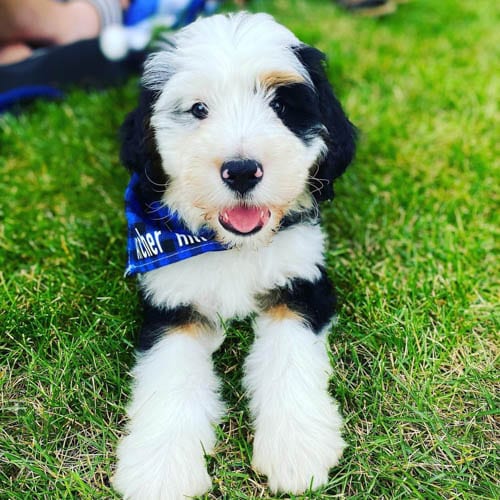 Pet Finder
This company is a well-known online forum perfect for dog lovers. They allow you to look for and drill down to a specific place. All you need to do is to visit its page and search for standard or poodle breed.
Then, determine what size you are looking for. After that, you have the click "anywhere" or select your preferred location. Then, you need to sign up for email alerts. Through this, you will get updates about your preferred dogs for adoption.
Pet Finder also provides additional resources that can be beneficial to dog lovers. You just have to look at them on several social media platforms. You can find any breeds you want within your locality.
All 4 Paws Rescue
If you are longing to adopt a Bernedoodle puppy, you shouldn't miss All 4 Paws Rescue. This non-profit organization started in 2009. Records say that they save all kinds of animals for a couple of years and already helped thousands of dogs.
All 4 Paws Rescue helps animals by rescuing them from places with kill policies and provide them another chance to live. Since this organization has an active social media platform, it is easy for you to contact them if you opt to adopt.
Doodle Rock Rescue
This organization is situated in the Dallas area. Right now, they are expanding and provide a full-service animal clinic. Doodle Rock Rescue is a non-profit rescue organization, and they operate based on donations.
It means that everything they do, from medications to rescuing, all of their expenses came from donations and volunteers.
Doodle Rock Rescue believes that every pet deserves special treatment. Though their main goal is to rescue doodle breeds, their clinic is open to all animals.
Summit Dog Rescue
Summit Dog Rescue is situated in the Rocky Mountain area. If you want to adopt doodles, you are free to visit its official website. The best thing about this organization is that volunteers mainly operate it.
Depending on your choice, you can give donations or be one of their volunteers. You can also adopt doodles by simply filling out their forms online.
Pooch Rescue
This is also a perfect place to adopt Bernedoodle puppies. This organization doesn't have a physical location, but you can reach them online. They started in 2008 and currently save more or less 4,000 dogs.
Since there are several rescue places to choose from, you are certain that you can get the best Bernedoodle puppy you want. So, what are you waiting for? Start adopting Bernedoodle puppies and see how lovable they are. You and your family will enjoy having these little buddies at home.