Are you looking for puppies to adopt but do not know what to choose? You do not have to search further than Dachshunds!
But before you make that big decision, there are things you should know as a pet lover. Read on for more!
Why Should You Adopt Dachshunds Puppies
There are many dogs to adopt, so why Dachshunds?
A Companion that Won't Stop to Make You Laugh
A survey conducted by the Society and Animals magazine found that people who have Dachshunds and other dogs laugh more and feel happier than those with cats.
After a stressful shift in the office, your fatigue and anxiety will fade away as soon as you see your Dachshunds wag their tails. They are a good therapy dog, after all.
A Loyal Buddy
Dachshunds are incredibly faithful and will stay by your side throughout their lifetime. They are very loyal and would consider you as a member of their herd.
They are a true friend, indeed.
A Fitness Companion
How many hours do you stay in front of the computer or laptop playing your favorite game or binge-watching action series on Netflix?
It's probably a lot. But with Dachshunds, you will be active, helping you lose weight and maintain your sexy physique.
Dachshunds are energetic and have a lot of stamina. They love to play outdoors and take a walk. They enjoy digging at the same time.
Curious and Smart
Before, Dachshunds were used for hunting animals in caves. So, do not be surprised every time you see them dig.
As highly intelligent dogs, they are less stressful to train. But make sure to vary your training activity to avoid boredom and increase long-term retention.
Things to Remember When Adopting Dachshunds Puppies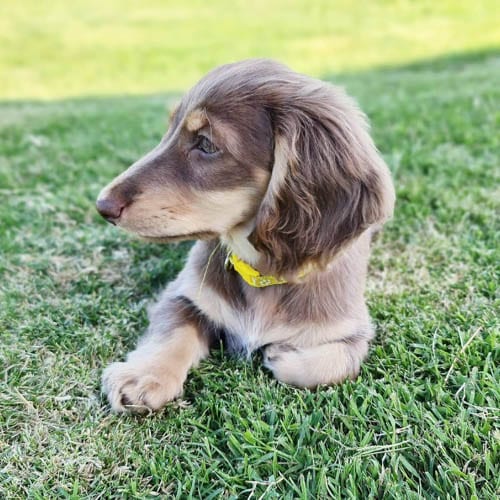 Do Your Homework to Know the Breed
Dachshunds are adorable. Unfortunately, this breed is not for everyone. Before you sign any adoption papers, make sure you understand the breed traits, common health issues, and temperament. Dachshunds are clingy and challenging to potty train. They also need regular exercise.
Prepare Yourself When Raising a Puppy
Let's admit it. Raising a Dachshund puppy is complicated. Pet ownership goes beyond providing your dogs a healthy food and comfortable shelter. They also need to be trained, and it does not take overnight. It is a lifelong commitment. But all of your efforts will pay off after some time.
Create a Plan for Dealing with Health Issues
Dachshunds are prone to a back disease, dental issues, hyperadrenocorticism (Cushing's disease), obesity, cancer, cardiac disorder, lafora disease, seizures, and immune system disorder.
So, it is worth it to create a plan for unexpected medical costs in the future.
Some may forget to have a plan until their pets get sick. That's a traumatic experience you can prevent with extra savings on your bank account. Health insurance for dogs can also be a lifesaver.
Where to Find Dachshunds?
Congratulations! You are now ready to adopt Dachshunds. But where to find puppies? Don't worry! Below, we gather some practical and safe ways you can weigh in mind.
Visit a Dachshund Rescue Center
You could change another life in a rescue center. There are also puppies and adult dogs to pick from, making the selection process less confusing.
During your first visit, do not be afraid to raise your queries. The owners are certainly willing to accommodate all your concerns.
Have the Dachshunds examined by a vet regularly? Do they receive vaccines? Have they undergone checkups for parasites? Do they have any health conditions? What food do they love to eat?
These are a few questions you may ask a rescue center. You can also consider other nearby rescue centers.
Find a Breeder
Another way to find Dachshunds is to look for breeders.
You can ask your friends for some referrals to make the process less complicated.
Perhaps, some of your close friends know a breeder.
Alternatively, you can ask a veterinarian for referrals.
If nothing goes as planned, you can search on Facebook, YouTube, Instagram, Twitter, and other social media platforms.
You can type Dachshund breeders on any of these sites' search bar. Within a few seconds, you can access multiple choices.
But be wary to avoid getting scammed. You can read reviews, of course. Any negative client feedback could indicate that the breeder is not trustworthy.
Also, never send any amount of money in advance unless the breeder is someone you know.
Consider a Pet Store
Have you gone thru a pet store? Not yet? It is time to visit one or more.
But with countless choices, it is tough to make a good decision.
The trick here is to find the best five pet stores and do not forget to compare the services.
You can look at the quality of breeds, years of experience, and even certifications.
Yes, it is time-consuming and tedious. But all your efforts will not go to waste.
By comparing several pet stores, you can find the right Dachshunds according to your budget—the more expensive the puppies, the better.
Avoid the pet stores that provide the cheapest rates. Always trust the one that offers great value.
Explore Dog Adoption Websites
If you do not find anything valuable on social media, there are dog adoption websites you can try.
Some of the top and reputed choices include Petfinder, Adopt a Pet, ASPCA, Best Friends Animal Society, PetSmart Charities, and AKC Rescue Network.
Petfinder is the sought-after website as it has been in the industry for many years already. Apart from dogs, you can find other pets, including cats, pigs, horses, and even bunnies.
You may also encounter new adoption websites, which is why you have to be careful. You can visit review sites at the same time to ensure you make a good decision.
Adopting Dachshunds puppies and other breeds is never easy. It requires a long-term commitment, patience, and time.
Do not adopt Dachshunds only because they are cute. Although it may not sound necessary, undergoing training and seminar on pet ownership will make your experience better than you think.
Enjoy finding your first ever Dachshunds!