1- Speak with your German Shepherd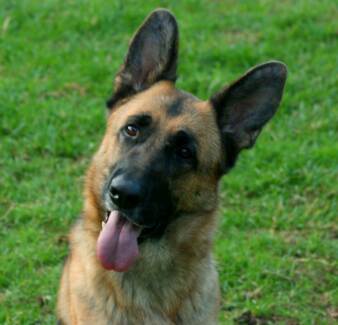 2- Give gentle, deep eye contact
When a dog stares at you for a long time, it's a way of saying "I love you." A new study indicates that oxytocin, the 'love chemical,' rises in both dogs and people when they share a kind stare.
3-Lean On Me
Leaning against your dog is a good way to give a little boost of love to your dog's day.
4- Sleep Next to Your Dog
If you don't like to let your dog in bed with you, even an afternoon nap on the sofa together will sleep both you and your dog.
5-Walk Together
Shared experiences and training sessions build trust, communication, and friendship. Walks and adventures give many chances to work on skills like walking without a leash. Dogs deal with routine and schedule, so an everyday walk with training mixed in helps them understand how much you love and attention.
6- Give your german shepherd a Relaxing Massage or Groom Session
A calming massage, soft grooming session, or extended petting time will make your dog know how you feel.
7-Game
German Shepherds like to play. Playing with the best thing and even better. Try something new like hiding & Seek or Treasure Hunt rather than the normal fetch game. This will keep the dog mentally balanced and make him energetic and happy.
8-Homemade Treats
Give them some delicious homemade treats. They can be very simple, for example, chicken broth frozen in ice cube trays or you can put a little effort making peanut butter biscuits or as hard as carrot cake.
9-Long Car ride
It's not just us people that enjoy a great road trip. If your dog likes a relaxed car ride, choose a good-weather day to take your dog out for a road trip.